G. Coleman
Oswalt, Jr., MD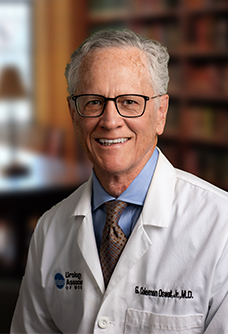 Urology
Located in Mobile & Fairhope, AL
Board-certified urologist Guy Oswalt, Jr., MD, has been a part of Urology Associates since 1979. Serving the community at Thomas Hospital in Fairhope, Alabama, and Mobile Infirmary in Mobile, Alabama, he brings quality care and treatments to adults of all ages.
Dr. Oswalt completed his undergraduate studies at Vanderbilt University in Nashville, Tennessee. He went on to receive his Doctor of Medicine from the University of Alabama in Tuscaloosa, Alabama, before finishing his internship at The Mayo Clinic and urology residency at the University of Alabama.
After his residency, he joined Urology Associates, focusing for years on the most compassionate and cutting-edge care for his patients. In addition to his work at the practice, he's also been a clinical professor of urology at the University of South Alabama Medical School in Mobile, Alabama, and is recognized internationally in his field for his extensive lectures and presentations.
Dr. Oswalt is certified by the American Board of Urology and was formerly on the board of trustees at Knollwood Park Hospital in Mobile, Alabama. He is affiliated with the Medical Society of Mobile County, Medical Association of the State of Alabama, and American Urological Association, and serves as a member of the American College of Surgeons.
Dr. Oswalt is also proud to have taken many mission trips to foreign countries, where he's provided health care to communities in need. Outside of his medical work, he is a devoted family man, and an athlete and runner who enjoys competing in various marathons.
If you have further questions or are experiencing symptoms of a urologic condition, call us or schedule an appointment today.
REQUEST APPOINTMENT