"Movember" is Men's Health Awareness Month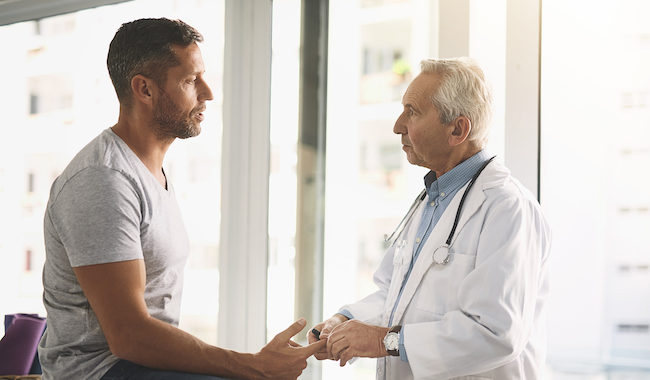 "Movember" is to spread awareness of the three biggest health issues that affect men around the world - prostate cancer, testicular cancer, and mental health disorders. The Movember Foundation encourages men around the world to grow out their mustache as a means of igniting conversation about these health issues.
Prostate Cancer
Prostate cancer is the second leading cause of cancer-related death in and the most commonly diagnosed form of cancer in men. It occurs when prostate cells develop abnormalities in their DNA that cause them to accumulate and form a tumor that invades the prostate tissue. In some cases, the cancer can spread to other parts of the body, such as the bladder or bones. Men over the age of 50 are in the highest risk group for prostate cancer, with African-American men being the most likely to be diagnosed with prostate cancer in their lifetime. Other risk factors include a family history of prostate cancer and obesity.
Prostate cancer may show few, if any, symptoms in the early stages of development. As the disease progresses, patients may experience symptoms such as:
Difficulty urinating
Blood in urine and/or semen
Weight loss
Erectile dysfunction
Urinary incontinence
Men over 50 and those in higher-risk groups should have their PSA checked and schedule routine prostate exams, as early detection is key to treating prostate cancer.
For more information on prostate cancer, visit our blog.
Testicular Cancer
Testicular cancer occurs when the germ cells - cells responsible for immature sperm production - within the testicle develop abnormalities and multiply until they form a mass of cancer cells. The cancer cells typically reside in only one testicle. Men between the ages of 15-35 and those who have testicular cancer in their family history are the dominant risk factor group, and research shows that white males are statistically more likely to develop testicular cancer than any other ethnicity.
Signs and symptoms of testicular cancer include:
Pain or discomfort in the scrotum
A noticeable lump in either testicle
Aching in the abdomen or groin area
A feeling of heaviness and/or sudden collection of fluid in the scrotum
Back pain
If you experience any of these symptoms for more than 2 weeks, schedule an appointment with your doctor. Performing regular testicular exams is recommended to men of all ages, and any lumps or abnormalities found in a self-exam should be reported to a physician immediately.
For more info about testicular cancer, visit our blog.
Mental Health
Research shows that men are two-thirds less likely than women to talk to a doctor or somebody close to them about their mental health. In fact, many males tend to overlook symptoms such as digestive problems or chronic pain, which can commonly be attributed to stress, anxiety, or depression. While mental health issues such as depression and bipolar disorder tend to run in the family, there are plenty of life struggles that can drastically affect one's mental health, such as divorce, loss of a loved one, and financial issues.
While some men do indeed recognize their mental health is unbalanced, they may feel the need to keep it quiet and deal with it on their own. It is estimated that only 2 in 5 people struggling with a mental health issue actively seek help within the first year of developing these symptoms. What men - and everyone - need to know is that asking for help is not a sign of failing. Mental health issues that go untreated can have a negative affect on relationships, work, and family life. Those struggling with their mental health should seek consultation with a doctor, who can help them find the right treatment plan to get life back on track.
If you have any questions or concerns about any of these issues, schedule an appointment with one of our urologists. And in the meantime, let's see you grow out the stache.
SUGGESTED BLOGS
What You Need To Know About BPH
"Movember" is to spread awareness of the three biggest health issues that affect men around the world – prostate cancer, testicular cancer, and mental health disorders. The Movember Foundation encourages men around the world to grow out their mustache as a means of igniting conversation about these health issues. Prostate Cancer Prostate cancer is the…
Symptoms and Treatments for Testicular Cancer
"Movember" is to spread awareness of the three biggest health issues that affect men around the world – prostate cancer, testicular cancer, and mental health disorders. The Movember Foundation encourages men around the world to grow out their mustache as a means of igniting conversation about these health issues. Prostate Cancer Prostate cancer is the…